FAWS NETWORK PAKISTAN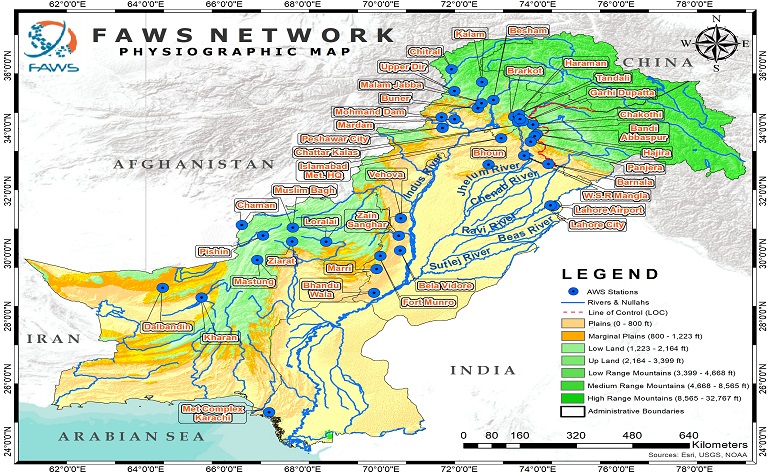 In Year 2010, the heavy rainfall during monsoon season caused sever flooding across Pakistan, worse in the past 80 years.
According to annual report of NDMA flood had serious damage across the whole region, killing 1,985, affecting 20.3 million people in total, and destroyed 19 million houses.
For capacity building UNESCO, PCRWR and PMD have Started a project "Strategic Strengthening of Flood Early Warning and Management Capacity of Pakistan" in 2011. At present the project is in second phase w.e.f 2015.
Research & Development Department of PMD has developed First Ever Automatic Data Aquisition System and Integrated Database Managment System "FAWS" to provide realtime ground based rainfall and basic vital meteorological parameters serving as a source of input for IFAS Run-off Model and Research purpose.
FAWS is presenting an elevation thematic map series to display the FAWS network for Pakistan. SRTM DEM of 90m is utilized as data set for maps creation. The basic purpose of these maps is to show the relation between change of elevation and installed automatic weather stations (FAWS) network. An R&D is established for creating lead time analysis based upon actual rainfall and Meteorological conditions extracted from Real-time AWS network for studying frequency and quantity of floods.